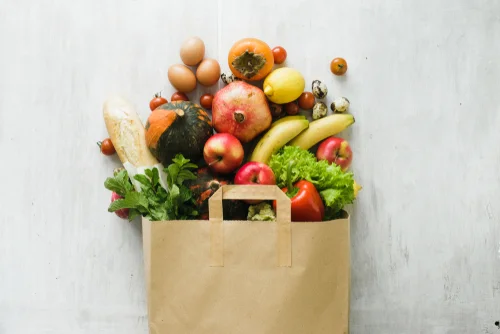 ---
Meals to make when you're low on time
Dinner doesn't have to be stressful or expensive. Here are a few meals that we typically have for dinner.
Taco Bowl
Very simple to make and one of our favorites! Your choice of 1 pound ground meat (Beef/Turkey/Chicken), canned corn and beans, rice, taco seasoning packet and salsa is all you need for a delicious dinner.
Brown your meat in a skillet. Then drain.
Follow the instructions on the taco seasoning packet to add seasoning and bring to a simmer Make some rice,
Warm up your corn and beans
Mix it all together and top off with some salsa!
Steak
Although not the most economical dinner, you can find savings on steaks at your grocery store. Take advantage when ribeye or sirloin steak is on sale. Grilling is as easy as seasoning with salt and pepper! Cook your meat to your preference for the best taste.
Some of my favorite condiments to add are cayenne pepper, paprika and garlic powder. If you don't want to fire up the grill, no worries, this can all be cooked with a skillet on your stove. This way, you can add a bit of butter to make it extra juicy!
Fried Rice
In our household, we have this dish once a week. Why? Because it helps us get rid of all the veggies and meat that are going to expire soon and it is effortless to make.
Required:
Day-old white rice
soy sauce or teriyaki sauce
Cooking oil
Everything else is optional!

Some ingredients we have thrown into our fried rice are
corn
spinach
eggs
leftover steak
chicken
bean sprouts
brussel sprouts
broccoli 
the list is endless!
Start with a bit of oil in your pan and throw in your cold rice from the fridge.
Once you start to hear it sizzle, add in your ingredients!
Add in your sauce, just enough to give the fried rice some color.
That's it! Seriously, all you have to do is make sure everything is warm and it's ready.
This meal is best with at least day-old white rice. If you cook the white rice and then make fried rice, it'll be mushy since there is a lot of moisture left after cooking the rice. If you don't have any rice, pop it in the freezer for about 30 min to make sure it cools before you start cooking your fried rice.
Breakfast food
I'm not sure if it's just me or not but I love breakfast food and will eat it any chance I can. There are no rules that say you can't have breakfast at 7 pm, right? For this dinner, pick your favorite breakfast and enjoy it for dinner! Omelets can be a quick and easy option and a quick way for you to get some veggies into your diet also.
 
---
I hope these at least get you thinking about different dinner options to make that are quick, inexpensive and can be healthy with the right ingredients. Bon Appétit!
Disclaimer:
All information presented and written is intended for informational purposes only. You should not rely on this information as a substitute for, nor does it replace professional medical advice, diagnosis, or treatment. If you have any concerns or questions about your health, you should always consult with a physician or other health-care professional.