Online & Mobile access.
Manage your money anytime, anywhere.
We offer the modern financial tools to make everyday life easier while always maintaining the highest level of security to keep your money safe and secure. Manage your money on your computer or with your mobile phone with the same seamless experience — it's all up to you! If you need more help, stop in at our friendly branch locations or contact us anytime.

With Online and Mobile Banking, you can handle your account with ease, whether at work or overseas. We've got you covered!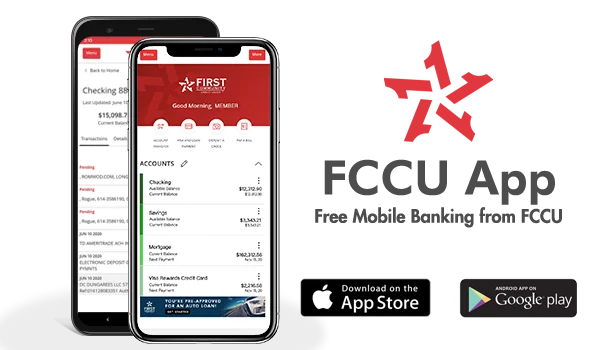 Download the FCCU app today to have your account at your fingertips 24/7/365!
Download in the Apple App Store Download in the Google Play Store
Mobile Deposit 
If you need to deposit a check on-the-go, use Mobile Deposit through our Mobile App. Simply click on the "Deposit a Check" quick link upon logging in or in the left menu select Services > Deposit Check.  Snap a picture of the front and back of your check, submit your deposit and you're done!
Security
Two-factor authentication adds an additional layer of security to Online and Mobile Banking that requires a second login credential beyond your username and password to gain access to your account. Upon your first login to Online Banking, a secure access code will be delivered via a phone call or text message to the phone number listed on your account to verify your identity. Enter the secure access code and you may choose to "remember" the device you are logging in from so you can log in without receiving a secure access code thereafter. If you login from an unknown device, you will receive a new secure access code to ensure the login attempt is legitimate. While this extra step may take an extra minute from device to device, it's the best way to protect your accounts.
Bill Pay
Pay your bills fast, free and anytime all in one place. Don't worry about missed payments or late fees when you set recurring payments to save time and keep you on top of all your bills effortlessly.
MyMoneyMap
Want to have a better view of your financial health? Get to know your money with MyMoneyMap, our financial dashboard. Set up saving goals, create budgets and more all within online banking.
FCCU Card Manager
Secure yourself with our new FCCU Card Manager app! The power is in your hands.
How do I obtain proof that a payment was sent via bill pay?
How do I obtain proof that a payment was sent via bill pay?
You may contact our Bill Pay service provider, ipay, directly at 866-722-8996 or through their chat service when logged in online
How do I find my account balance?
How do I find my account balance?
Online Banking, Mobile App, PAT, Text Banking
How do I sign up for eStatements?
How do I sign up for eStatements?
Login to FCCU Online Banking
From the left menu, click on services
Click on eStatements
Follow the prompts to make a profile
At Document Delivery Reference, select All Electronic
Select Save and you are now enrolled in eStatements